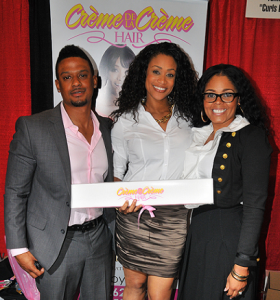 What's that line Tami is always giving about how VH1 picks and chooses which scenes to show of her and how she's portrayed unfairly? It seems the "Basketball Wives" star is getting a taste of her own medicine with a lawsuit that's been filed against her.
The owners of Crème De La Crème Hair have filed a suit against Tami saying she hasn't upheld her end of the bargain in an endorsement deal they signed. The product was supposed to be featured on the show during a business meeting we'd see between Tami and the owners during this season of the show, but taping never happened and the owners say Tami avoided every attempt to set the scene up.
And while Crème may have been willing to overlook that slight, Tami added insult to injury when instead of showing up at an Atlanta hair show to promote Crème as was agreed upon, she brought the "Basketball Wives" filming crew to tape her show off her own line of hair. Now, the Crème De La Crème owners say they want all of the footage from the Atlanta hair show to be pulled, unless it features them, and $75,000 for excess damages.
(Visited 31 times, 1 visits today)