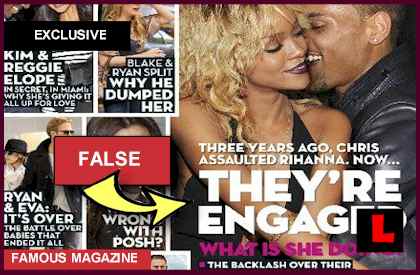 Chris Brown and Rihanna are engaged, if believe Famous Magazine. Chris Brown and Rihanna are "engaged:, exclaims an Australian magazine cover photo hitting newsstands this week. But Brown and Rihanna are not engaged, despite the magazine's allegations. Fans are irate today about the confusion.
On Sunday, U.S. fans began to ask if Chris Brown and Rihanna were engaged. Online, fans are sharing a twitpic of a magazine cover that initially looks fabricated in Photoshop. The twitpic image doesn't show the magazine's name. Rather it shows a recent image of Rihanna and Chris Brown. Underneath their picture is an elongated caption. Included in the cover caption are the words "They're engaged".
But is the Twitpic fabricated? Apparently it is not. The Twitpic being shared online today is actually a non-doctored screengrab of the February 28, 2012 issue of Famous Magazine, LALATE can exclusively report. Apparently in Australia they think Brown and Rihanna are engaged.
Famous Magazine's complete cover this week hitting Australian newsstands states "three years ago, Chris assaulted Rihanna. Now they're engaged." The magazine then asks in purple bold face font "What is she doing?" Below that, the cover exclaims "the backlash over their reunion, does he deserve a second chance?"
Ironically, Chris Brown and Rihanna's fake engagement is not the only false tale on the magazine's cover this week. In the upper left hand corner of Famous's cover is another article which states that Kim Kardashian and Reggie Bush already are married. Of course they aren't. "Kim and Reggie elope, in secret, in Miami." The caption continues "Why she's giving it up all for love."
So what does the magazine stated inside its cover about Brown and Rihanna? It writes  "What is she doing? First they collaborate on their latest singles and now they might have put a ring on it?" Apparently on the cover, they two singers are engaged; but inside the magazine, they aren't.
The truth is that Rihanna and Chris Brown aren't engaged. And Reggie and Kim aren't even dating. But did Australian news actually believe these claims to be true?
This is not the first time and Chris and Rihanna have battled faked engagement reports. The same was reported falsely, ironically, on March 1, 2008. One false report read at the time "Chris Brown has asked the Bajan princess to get married. And Chris bought her a 20 Carat diamond ring to convince her".
The false news report added "And Rihanna didn't say yes yet … She's still trying to figure out what to do". It also told readers "we're 100% sure on this one." Of course, later news reports confirmed that the two were never engaged, there wasn't an engagement ring, and the stones on Rihanna's ring weren't even diamonds but crystals.
(Visited 149 times, 1 visits today)