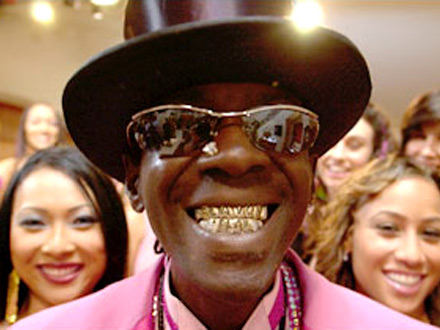 Flavor Flav has always had his hand in a whole lot of different buckets. From starring in reality shows, to appearing on commercials to being one of the greatest hype men ever, the eccentric isn't above exploiting his talent or personality for profit in anyway he can. Thus, it shouldn't be a surprise that his newest business venture involves actually selling buckets, these filled with fried chicken.
A few years back, restaurateur Peter Cimino went to Flav's house to have dinner with his family. The musician prepared his special recipe homemade fried chicken for the occasion, and its deliciousness got Cimino's wheels turning. He added Flav's chicken wings to his restaurant to great success and began pitching the hypeman on opening his own restaurant. No stranger to the food game, the emcee's dad operated a diner while he was growing up; so, Flav jumped at the chance to have his own place.
Flav's Fried Chicken opened in Clinton, Iowa last year, but unfortunately, the business was plagued by in-fighting and poor management decisions from the start. It closed down after only a few months, but the customers were supposedly happy with the product. So, yesterday, Flavor Flav's House Of Flavor opened in Las Vegas. According to US Weekly, the ceremony was well-attended and the restaurant has already been getting positive reviews.
No offense to Clinton, Iowa, but it seems like Las Vegas is the perfect place for a Flav-run restaurant. The concept is just the right level of weird to bring travelers into the door, and if the fried chicken is as good as people are saying, House Of Flavor should be open for quite awhile.
Yeah boy!
(Visited 222 times, 1 visits today)