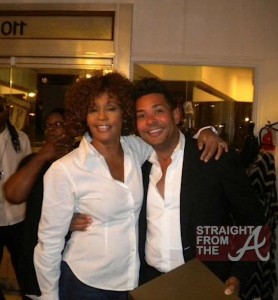 The identity of the person who leaked the photo of Whitney Houston laying in her casket has been revealed, according to reports.
The world was shocked when The National Enquirer published a photo of the star laying in her gold casket on the front of their weekly magazine. While some pointed the finger at staff members of the Whigham Funeral Home in Newark, New Jersey, others claimed it was one of Whitney's relatives.
However, Forbes.com claims the culprit was celebrity hanger-on Raffles van Exel, who is part of several celebrity entourages.
Despite not being a member of the Houston family, van Exel was the only outsider allowed into the viewing room to see Whitney's body before she was buried. He also travelled with the family from Los Angeles to New Jersey and was even provided with his own bodyguard.
When staff members of the Whigham Funeral Home sussed he was responsible, they alerted Whitney's family, but were surprised when they didn't react to the news.
Apparently, some employees of the funeral home believe the family are protecting van Exel as they have formed a close relationship with him.
Whitney's brother Gary, and manager Patricia, recently said in an interview with Oprah Winfrey that they felt "violated" by the publication of the photo and blamed the magazine rather than the culprit.
(Visited 55 times, 1 visits today)