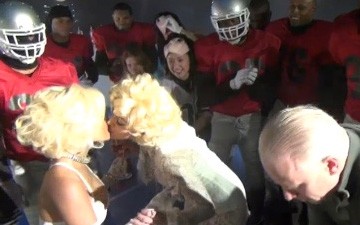 First came Britney, then Nicki. For whatever reason, Madonna has a tendency to kiss young rising pop stars. Recently featured on Madonna's new single "Give Me All Your Luvin'," the Black Barbie is the latest recipient of a surprise Madonna's smooch, which the pop icon gave in honor of the rapper's birthday along with cake and song. Judging from the photograph, Madonna felt very strongly about this kiss which was planted smack dab on Nicki's lip.
The two seem to have bonded greatly in the past few weeks since their Super Bowl performance. Not surprising, seeing as the two artists have a great deal in common image-wise. Given Nicki's and Madonna's controversial antics, this kiss hardly warrants a pause or any sort of consideration. Still, Madonna delivered the birthday kiss on a closed set which appears to be devoid of any press, so perhaps controversy was the furthest thing from her mind. Maybe Madonna really just wanted that "cake."
via Madonna Surprises Nicki Minaj with Kiss – Black Listed – EBONY.
(Visited 32 times, 1 visits today)