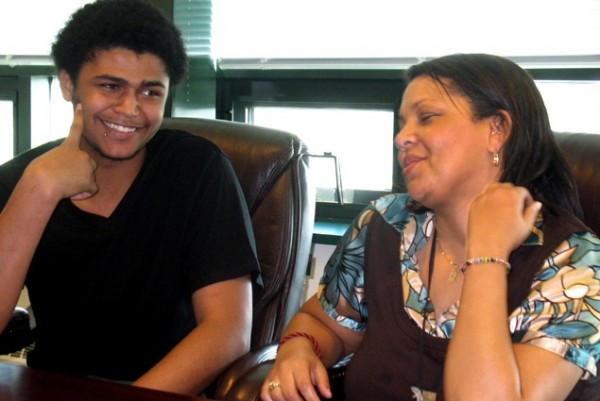 The last straw for 17-year-old Alton Burke was a note left on his door. The high school dropout picked up the phone and re-enrolled at South Hagerstown High.
Burke missed roughly 200 days of class, but Heather Dixon, the student intervention specialist who left the note, never gave up on him.
Aggressive efforts to prevent students such as Burke from dropping out contributed to a modest 3.5 percentage point increase nationally in the high school graduation rate from 2001 to 2009, according to research to be presented Monday at the Grad Nation summit in Washington. The event was organized by the children's advocacy group America's Promise Alliance founded by former Secretary of State Colin Powell.
The graduation rate was 75 percent in 2009, meaning 1 in 4 students fails to get a diploma in four years, researchers found. That's well below the organization's goal of 90 percent by 2020.
Researchers found that the number of "dropout factories," schools that fail to graduate more than 60 percent of students on time, had dropped by more than 450 between 2002 and 2010, but that 1,550 remain.
"Big gains are possible if you work hard at it, and if you don't focus on it, you're going to go backward," said Robert Balfanz, a report author and director of the Everyone Graduates Center at the School of Education at Johns Hopkins University.
The increase in graduation rates was primarily because of growth in 12 states, with New York and Tennessee showing double digit gains since 2002, according to the research. At the other end, 10 states had declines: Arizona, Arkansas, California, Connecticut, New Jersey, Nebraska, New Mexico, Nevada, Rhode Island and Utah.
So far, only Wisconsin has met the 90 percent benchmark, although Vermont is close.
"This year's report proves struggling schools are not destined to fail," said Education Secretary Arne Duncan. "The reality is that even one dropout factory is too many."
Related: Read the full report from America's Promise
The authors said there are proven strategies to tackle the problem, such as getting all students to read at grade level, raising the compulsory school attendance age to 18 and developing "early warning" systems to help identify students that might be at risk of later dropping out.
In his State of the Union address, President Barack Obama encouraged states to pass laws to require students to stay in school until they graduate or they turn 18.
It's estimated that high school graduates will earn $130,000 more over their lifetimes than dropouts, and that high school graduates will generate more than $200,000 in higher tax revenues and savings in government expenditures over their lifetime, the report said.
via 1 in 4 teens drop out of high school; Despite progress in states like NY and Tenn., 10 states show decline – NY Daily News.
(Visited 33 times, 1 visits today)