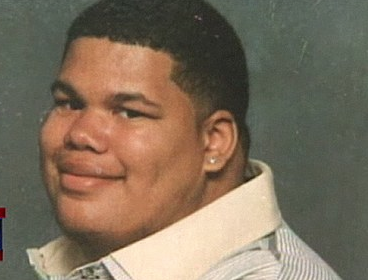 A video camera that was meant to capture a man's sleep patterns instead recorded the final hours before he died and cost him his life, according to the 25-year-old's family.
Brandon Harris, who was mentally disabled, had been referred by his doctor to the Emory Sleep Center in Atlanta to determine whether he suffered from obstructive sleep apnea, a condition which causes difficulties in breathing.
But his family had allegedly voiced concerns about the study, saying that it was risky for Brandon to lie on his back for long periods of time because he was overweight and suffered from congestive heart failure, diabetes and high blood pressure.
According to the video below by MyFoxAtlanta, Harris can be seen waving his hand in distress and calling out, 'Am I dying?' – but by the time sleep technologists ran into the room , it was too late.
Brandon collapsed and died before he reached the hospital during the test in January 2010.
His death has since prompted a wrongful death lawsuit and a new bill forcing tougher regulations on Georgia's sleep centers, such as 24-hour staffing, defibrillators being placed in each room and CPR training for sleep technologists.
Emory Healthcare, the largest healthcare provider in Georgia, would not comment on the bill because of the ongoing lawsuit. But last year it claimed that Harris died of sudden cardiac death and called his care 'appropriate' for his medical condition.
It added that its sleep center has performed 15,000 sleep studies since the early 1990s and this is the first incident of its kind.
(Visited 295 times, 1 visits today)