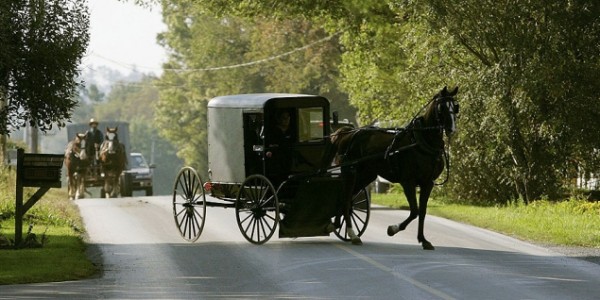 Three Amish men and one woman in western New York are facing charges after drunkenly crashing their horse buggy into a cop car that was headed to bust up an underage booze bash at one of the men's farms, authorities said.
The incident began on Sunday night at around 7:15 p.m. when Chautauqua County Sheriff's deputies were responding to calls about underage drinking at a farm in Sherman, near the Pennsylvania border, the Jamestown Post-Journal reported.
Deputies said they encountered several horse-drawn buggies hogging both lanes of a road on the way to the farm.
As they went to pass the buggy scrum, one of the carriages crashed into the cruiser and flipped on its side, trapping one passenger underneath.
Marvin Byler, 19, suffered a minor leg injury in the crash.
The collision also caused the horse to break free of the carriage, and it ran into a nearby barn, the newspaper said.
Deputies found the buggies loaded with booze – perhaps reinforcements for the kegger raging at 20-year-old driver Marty Toryer's house.
Byler, Troyer and two others, Leroy Troyer, 20, and Marianne Troyer, 18, were charged with underage possession of alcohol, and Marty Troyer faced additional charges because he was hosting the party, the newspaper said.
Several other buggies fled the scene after the accident.
(Visited 62 times, 1 visits today)