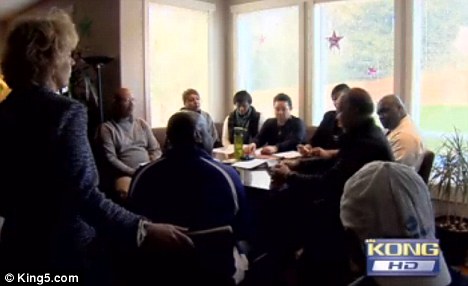 Nine black school district employees have filed racial discrimination complaints against their black superintendent and are demanding her immediate suspension.
The employees from the Tukwila School District, south of Seattle, Washington, have filed complaints with the U.S. Equal Employment Opportunity Commission against superintendent Ethelda Burke.
The accusers range from vice principals to teachers to dispatchers.
Black Tukwila School District employees are calling for the suspension of black superintendent Ethelda Burke
Black employees at Tukwila School District accuse Ethelda Burke (R) of racial discrimination
'She said to me you have to stop being a big, black man scaring our white drivers,' Doc Fells, driver trainer and dispatcher, told King5.com 'And it numbed me.'
J.D. Hill, an athletic director, is among those asking for Burke's dismissal.
Superintendent Ethelda Burke allegedly referred to some employees as 'slaves'
'When I walked in her office, she said, "Hey, J-Dark,"' said Hill. 'J-Dark was my nickname, my pet name for months, in a professional environment.'
And a group of female employees claims Burke referred to them as slaves.
'I was pissed,' said Marva Harris, a school security officer.
'I couldn't believe my ears she would refer to professional African-American women as slaves,' added teacher Sandra Goins.
The school employees say Burke's race made them pause before filing the complaint.
'If she wasn't a person of color, me personally, I would have gone after her long before now,' said bus driver Ritchie Coleman.
Both the school board and Ms Burke have declined to comment.
(Visited 23 times, 1 visits today)