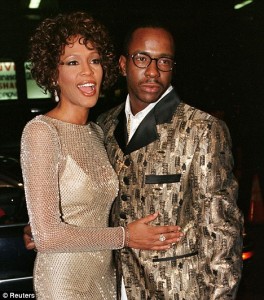 Bobby Brown has claimed that he was so devoted to his daughter that he paid for Whitney Houston to go into drug rehab even though he was homeless at the time.
The 43-year-old singer stated in divorce papers that he had been left with the bill for his wife's drug related problems and the total cost of it all put him under serious financial strain.
During their separation and eventual divorce in 2007, Brown submitted a sworn declaration while trying to claim child support from Whitney, who was found dead in a hotel bathtub last month.
In the documents, that were obtained by RadarOnline.com, Bobby says that he was broke and living in his car but still tried his utmost to see his daughter.
He said in the court documents: 'Whitney took Bobbi Kris without my prior knowledge or consent, and moved to Orange County, California, where Whitney received treatment for her drug addiction…. Although I was having severe financial problems, I did all I could to see my daughter.
He continued: 'I came to California to be near Bobbi Kris. I also paid approximately $10,000 for Whitney and Bobbi Kris to live in a nice hotel while Whitney was going through rehab. At the same time, I basically lived out of my car.'
However, when Whitney put forward her own declaration she stated that: 'in November 2006, I had oral surgery and I stayed at a clinic afterwards.'
The star couple had a pre-nuptial agreement that stated in the event of a divorce, neither one of them would try and claim spousal support from each other.
The agreement read: 'Brown agrees that Houston shall have no legal obligation to support him, and that he shall have no right to require the payment of any alimony, support (including temporary support), or other maintenance, and no right to receive any rights, interests, or claims to Houston's property, and Brown hereby waives releases, and forever renounces any and all such rights to the fullest extent permitted by law.'
But, Houston said in her declaration that Bobby had been trying to get support for a long time.
She said: 'Bobby is fully capable of working and earning substantial sums of money if he would control his personal behavior. It is his personal conduct that keeps him from earning substantial amounts of money.'
Brown was never given any financial support from his now deceased ex-wife and Whitney maintained sole custody of their daughter Bobbi Kristina
(Visited 150 times, 1 visits today)