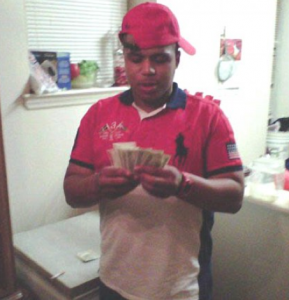 A prolific robber was caught after he was found boasting about his heists on Facebook, BEFORE he had even committed them.
24 year old Jesse Hippolite, posted 'I Gotta Get that $$$$$ Man!!!!' on the social networking site just 45 minutes before he terrorized a Chase branch in Brooklyn, New York, last July.
The dopey delinquent also wrote 'crime pays my bills' and 'I wanna promote a heist… who wid it?' – as well as appearing in three photographs where he posed with wads of $100 bills.
And he ranted: 'What If We All Got Fed Up With This Recession And Started Running Inside Every F****** Bank To Give Us The Money That Belong To Us???' Police arrested him when, after another heist, a bank employee noted the license plate number of the car he used – which had been borrowed from a friend.
Using the FBI and NYPD's license plate reader camera system to determine where it had been stopped in the previous weeks, they found it had been near 19 banks that had been robbed. They then checked his page on the social networking site.
Hippolite, who changed his Facebook name to bandit Willie Sutton Jr in honor of his idol who would disguise himself when robbing, pleaded guilty yesterday to three bank robberies. An additional 16 heists are being taken into account and he faces up to 60 years in prison.
'I'm not saying that's going to happen, but it's a potential consequence,' Brooklyn Federal Judge Roslynn Mauskopf warned him.
Willie Sutton was more shrewd than Hippolite though, as he used several inventive disguises to rob banks from the 1920s to 1950s.
(Visited 29 times, 1 visits today)