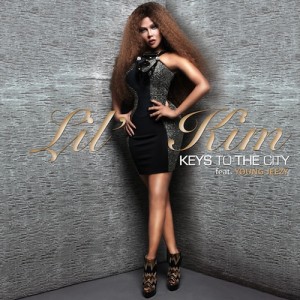 It's just all wrong. As if the plastic surgery and skin lightening weren't enough. The picture goes from bad to freaky when you realize someone has literally airbrushed her knees out. When you're trying to make a significant comeback, chances are you're going to need your knee caps. One could almost believe that a die-hard Nicki Minaj fan has gone undercover and suggested every last one of Kim's surgery screw-ups, fashion faux pas and wack wigs over the last decade. What else could explain it? Who approved this image?
As much as this post could be about clowning Lil Kim's album cover, it's deeper than that.  Looking at this image honestly makes me sad. It's clear that Lil Kim has never been happy with her appearance. Most of us would change a thing or two if we had the resources but the severity of the changes she's made over the years point to a greater problem. I would love to know what's going on with her, one because I'm nosy and two because I believe I was a therapist in another life.
Since I don't know Kim and I don't know what's going on with her I can only wonder why she didn't stop. Why didn't she stop getting surgery after the first couple of nose jobs? Why did she continue to lighten her skin? It's not like she was ever an ugly woman. I mean, the woman built a lucrative career off of being a thugged out sex symbol. In this life, and especially when you're in the entertainment industry, it's absolutely imperative that you love yourself. And as the pseudo therapist that I am, I have to wonder if Lil Kim feels that self love when she looks in the mirror. Judging from her transformations over the past few years, it's hard to argue the affirmative.
(Visited 19 times, 1 visits today)