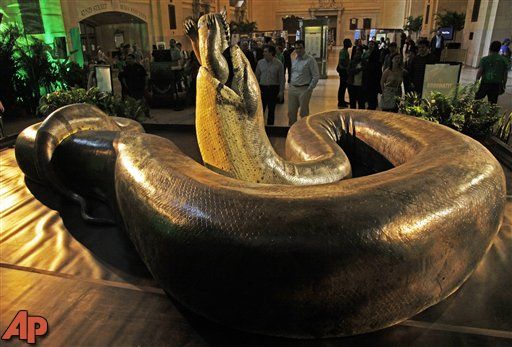 A prehistoric monster snake is making a quick stopover in New York City's Grand Central Terminal.
The full-scale replica of the Titanoboa ty-tan-uh-BOH'-ah) was unveiled Thursday as a promotion for an exhibition at the Smithsonian's National Museum of Natural History in Washington, D.C.
When it roamed the Earth, the snake was 48 feet long and weighed 2,500 pounds.
Titanoboa was discovered in 2005 among a trove of fossils in one of the world's largest open-pit coal mines in Colombia. It lived more than 60 million years ago when dinosaurs no longer ruled.
The traveling exhibit runs from March 30 through Jan. 6, 2013. A special documentary will air on the Smithsonian Channel on April 1.
The giant reptile heads for Washington on Friday evening.
Copyright 2012 The Associated Press. All rights reserved. This material may not be published, broadcast, rewritten or redistributed.
(Visited 152 times, 1 visits today)