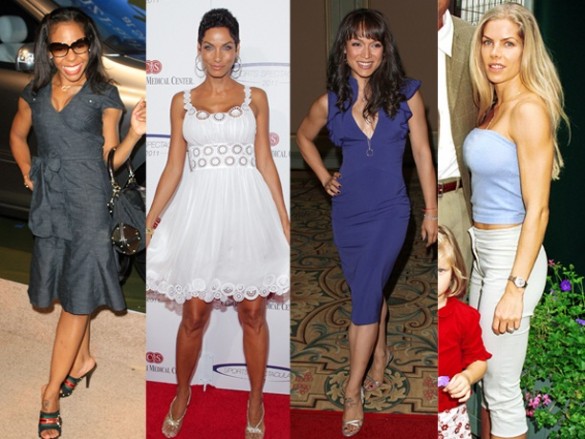 R. Kelly, Eddie Murphy, Will Smith, Jose Canseco and Prince don't have much in common, but their ex-wives do. They're all set to star in a new reality series, "Hollywood Exes," to premiere on VH1 this summer.
Don't expect the big stars to appear on the series like Kelsey Grammer did on "The Real Housewives of Beverly Hills" while he was still married to Camille. But you will see the lives of Nicole Murphy (married to Eddie for 13 years), Jessica Canseco (married to Jose for four years), Sheree Fletcher (married to Will Smith for three years), Mayte Garcia (married to Prince for three years) and Andrea Kelly (married to R. Kelly for 12 years).
These women have been friends for years, and now they're partnering onscreen in an effort to build up their own celebrity beyond that of their ex-spouses.
Murphy is a former model who has five children with the movie star. Canseco is a former Hooters waitress who wrote a tell-all memoir about her life with the baseball star, then posed nude in Playboy and is now married to a plastic surgeon. Fletcher has a child with Smith and is currently married to Terrell Fletcher, minister of City of Hope International Church in San Diego. Dancer and choreographer Garcia has done a bit of acting since splitting with Prince; she's appeared on "Psych," "The Closer" and "Nip/Tuck," and choreographed Britney Spears' belly dance for her "I'm a Slave 4 U" video and performance at the 2001 MTV Video Music Awards. Kelly was the R&B singer's principal dancer and wife for many years and now has her own fitness classes and a line of clothing.
While nothing about the project sounds like classic reality train-wreck TV (all the ex-wives seem to be striving entrepreneurs in their own rights), there's always hope that someone will flip a table or two along the way. After all, the bar really has been raised when it comes to these types of shows.
The series will run for 10 episodes.
(Visited 238 times, 1 visits today)