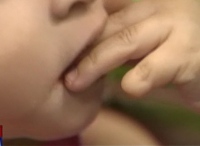 A Florida baby went to the hospital with a high fever, and left missing half a pinky.
A horrified mother said she went to Heart of Florida Regional Medical Center last year after her then-3-month-old daughter, Selena, had a fever that wouldn't break, Fox 13 reported.
When they were getting ready to go home, she claims, a nurse went to snip the IV — but instead chopped off part of her daughter's finger.
"I realized it because there was blood everywhere. It was all over her shirt, it was on my shirt. It was on my face. I held her face close to my chest. She was red, she was screaming," Veronica Olguin told reporters.
Selena had to be airlifted to another hospital, but the finger was too small to reattach.
"It's really hard that she was born so perfect and she just cut off her finger, now she only has nine fingers, that is really hard," Olguin told reporters.
Hospital administrators said the incident was an unfortunate accident. The nurse, they said, is still employed at the medical center.
"An unfortunate accident occurred at our hospital while an experienced nurse was removing bandages from the tip of a child's finger," a hospital spokesman said in a statement. "We rushed the child to a hand specialist, but unfortunately the tip of the finger could not be reattached. We deeply regret the harm to the child and want to reiterate our compassion and concern for her and her family."
(Visited 24 times, 1 visits today)