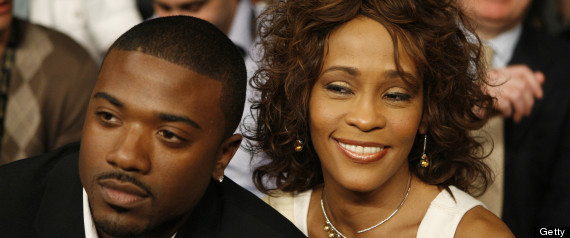 Whitney Houston's official cause of death was deemed an accidental drowning, but the report also notes the singer suffered from heart disease and had cocaine and prescription drugs present in her system.
It's the cocaine that has the singer's former sister-in-law, Leolah Brown, pointing fingers at Whitney's reported boyfriend at her time of death, Ray J.
According to the L.A. Coroner's report, Houston used cocaine "immediately prior to her collapse," but when investigators arrived on the scene they found no trace of cocaine or any other illegal drugs in the room. Sources tell TMZ the individual who removed the cocaine from the scene was also the person who supplied it to the singer.
Brown claims that Ray J provided Houston with the cocaine before she died. On CNN's "Headline News" with Dr. Drew Thursday night, Brown claimed that she saw Ray J leaving Houston's hotel room in a hurry on the night of her death. Brown also went so far as to allege that Ray J was never Houston's boyfriend, but he was really her "runner boy," and brought her the drugs she wanted.
Ray J, 31, is of course denying the allegations. His reps told Us Weekly that Brown's remarks to Dr. Drew Pinsky are "rife with false statements."
"Even though Leolah Brown was nowhere near the Beverly Hilton Hotel on the day Whitney Houston died, Ms. Brown falsely claimed that Ray J was at the hotel and contributed to Whitney Houston's death," his rep told the magazine. "Even the most minimal inquiry with anyone actually in contact with Whitney would reveal that Leolah Brown had been out of contact with Whitney for more than a year."
Ray J's reps also denied any involvement in Houston's death to other publications, telling TMZ that Ray J had no knowledge that Whitney was using drugs again and he was in San Diego at the time of her death.
(Visited 87 times, 1 visits today)