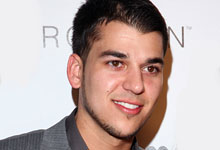 Things got a little hairy for the lone male Kardashian in Miami this past weekend. Reality star Rob Kardashian was hanging out with a few friends and saw a member of the paparazzi taking photos from across the street. According to reports from TMZ, Rob an his friends thought it would be funny to sprint towards the photographer to scare him away. The problem is the photographer didn't think it was a joke and was actually frightened.
The photographer ran away from Kardashian and crew screaming for help. Once Kardashian saw the guy was in legitimate fear of him and his friends, he followed the photographer into a nearby smoke shop to inform him of the joke. In the midst of Rob Kardashian clearing up the matter, police got involved. Sources say police saw the whole thing occur and decided to get involved when Kardashian followed the photographer into the smoke shop. Adrienne Bailon's ex was detained and questioned by law enforcement. Police let Rob Kardashian go once he convinced the cops everything was a big misunderstanding.
Should Rob Kardashian been detained by police considering paparazzi invade celebrities' lives all the time and were only getting a taste of their own medicine? Let us know in the comments after you check out the video of the incident.
(Visited 79 times, 1 visits today)