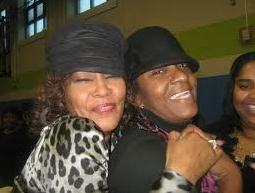 Last week Carolyn Whigham, owner of the funeral home that handled Whitney's service uncovered the person who took the pic and sold it. Whigham said she shared that info with the Houston family but made it very clear she would not release the person's name. She claimed that was for the Houston family to decide.
Well now the internet is on fire with word that it was Bobby's sister! Reports are floating around that Tina had the means, the motive and the access. Let me make this VERY clear, the Houston family has yet to confirm any reports either way.
It's being said that the reason the Houston's stopped the internal investigation into the leaked photo is because they found out who did it. Whether or not they confirm that it is Tina, or "out" the person who did it, remains to be seen.
This isn't the first time Tina has allegedly sold Whitney out. You may remember in 2006, she allegedly leaked a series of private photos of Whitney's bathroom that were featured in the British tabloid The Sun. The pics supposedly showed that Whitney had been cooking what is known as "freebase cocaine," or in more common terms, "crack cocaine," in her bathroom.
When later asked about her rumored crack use, Whitney told Dianne Sawyer in a now-famous interview, "Crack is cheap. I make too much money to ever smoke crack. Let's get that straight. Okay? We don't do crack. We don't do that. Crack is whack."
It gets worse, Tina also claims SHE did crack with Whitney. During that 2006 interview she said this… "A drug dealer had called Bobby and said, 'Come get your wife. I'm sick of this bitch. She's in here peep­ing out the windows and doing all kinds of s–t in the house.'"
Tina says she found out Whitney had been in the drug den for days giving orders to dealers and drug buyers, telling some to leave, telling others where to sit, seeing demons, thinking she was under surveillance. It became too much for the dealer. "Bobby and security had to go get her." She went on to say… "Hey, I was using and she was paying. It was free."
It's reported the National Enquirer paid somewhere between $250,000 to $500,000 dollars for the photo. Whigham has always denied she or her employees had anything to do with it. She's now considering legal action over the way her business was treated regarding the situation.
This is surely going to add to the drama between the families. Just a few days ago, Bobby's other sister Leolah, seen below, claimed Whitney's death wasn't an accident and that Bobbi Kristina is not safe.
(Visited 2,033 times, 1 visits today)