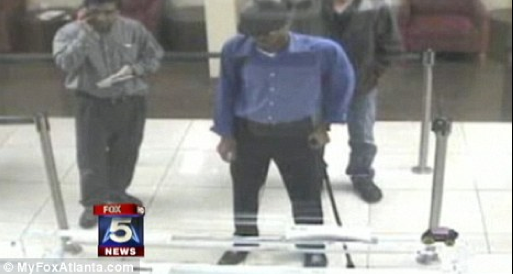 Would-Be Bank Robber Makes Several Mistakes in Attempt: MyFoxATLANTA.com
A dim-witted attempted bank robber wound up behind bars after a lack of cash forced him to return to the scene of the crime.
Cops say the suspect was arrested after coming back to the Chamblee, Georgia, Wells Fargo bank he tried to rob moments earlier to withdraw money for his cab fare.
39 year old Trevor Gladston Jr, is accused of giving a bank teller a note that said: 'Give the money now or we start to shoot'. Police said he left without any money when the teller, protected by bullet-resistant glass, stepped back from her seat. Cops said Gladston then fled in the taxi.
The taxi driver told cops that she picked Gladston up at the MARTA train station in Chamblee, and he asked her to go back there after coming out of the bank.
But when they got to the MARTA station, the driver flagged down a transit police officer after becoming concerned that her passenger would skip out on his fare.
Chamblee Police Chief Marc Johnson told Fox 5: 'He just convinced the guy that you need to get some money and pay it or you're gonna end up in trouble, so the perpetrator agreed to take the cab back to the bank'.
Police said that the officer didn't know about the robbery attempt and talked Gladston into returning to the bank to get money for the cab ride. But when they got there, Gladston was arrested after bank employees recognized him as the man from the robbery attempt.
He was booked on charges of attempted armed robbery and transferred Wednesday to the DeKalb County Jail.
(Visited 28 times, 1 visits today)