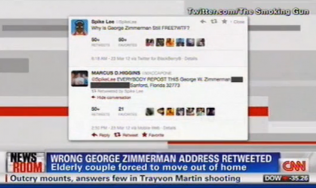 On Tuesday, a Florida couple's address was revealed when many — including Spike Lee — posted it online, saying it was the address of George Zimmerman, the neighborhood watchman involved in the Trayvon Martin case. It turns out it revealed the location of David and Elaine McClain instead — who have no connection to Zimmerman. Now, the couple, in their early 70s, is in hiding, fearing for their lives.
Though the police said they would increase patrolling in the area, the couple has fled to a hotel. "We're afraid for our lives," Elaine McClain said.
The only link that ties them to the case? Elaine McClain said, "My youngest son, his last name is Zimmerman and his middle name is George." Her son told the Orlando Sentinel, "This is really scary, and I'm concerned for my family. It's scary because there are people who aren't mentally right and will take this information and run with it."
He added, "To endanger people who are innocent because people are angry is not the answer. That's not how we're going to heal. It's not to help the Martin family for someone else to be hurt."
Although the tweet has been removed, the Sentinel notes it's still being retweeted.
Here's a segment about the couple, via CNN:
(Visited 20 times, 1 visits today)