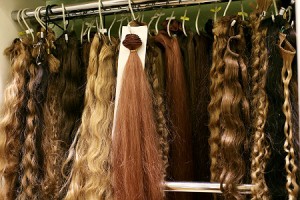 The sagging economy and escalating human-hair weave costs have spurred thefts in Philadephia-area beauty shops and salons, according to the Philadelphia Inquirer.
The selling of weaves is a huge money-making business in this country. While they were once taboo, weaves are very much en vogue today.
The Atlanta Journal-Constitution reported last fall that robbers are especially targeting the most expensive and highest quality hair sold. "Remy" hair, a popular and expensive braid of weave, can sell for as much as $200 a bundle. After the hair is purchased, then comes the cost of a beautician sewing it in at the tune of hundreds, or sometimes, thousands of dollars.
The most recent rash of hair thefts around Philly have resulted in people snatching packages of hair from beauty store racks. Some have been brazen enough to go behind counters to steal hair from display glass cases. Police investigators told the Philadelphia Inquirer that thieves have even sunk as low as using baby strollers to load up on hair.
Last year, The New York Times reported that there were several high scale human-hair theft robberies around the country. In February, a Meyerland beauty salon in Houston experienced a major weave thief that resulted in a $150,000 loss. The month prior, another Houston salon was robbed of $40,000 worth of weave. Last April, a thief stole $90,000 worth of weaves from a beauty supply store in Chicago. There were other human-hair stealing capers reported from different parts of the country–$60,000 in San Leandro, California from a beauty supplier; $30,000 in Remy hair from an Atlanta store chain, $10,000 from a San Diego, California beauty shop and $10,000 from a Dearborn, Michigan beauty supply store. The latter resulted in the death of the store's owner last March by men who fatally shot him for 80 packages of hair worth about $10,000.
In the Chicago caper, the thieves totally overlooked the store's register that was full of cash and instead opted to take the bags of hair.
What do the thieves do with the stolen hair?
What the hair thieves are doing is selling the stolen merchandise out of car trunks, on the streets or to those stylists who work out of their home. Since the costs of the hair is so prohibitive for many in the stores, there are those people who would welcome buying it at a cut rate from hustlers.
Do these human-hair crimes warrant police investigations?
Besides the bootleg sales of human-hair, police often find it difficult to determine whether hair thefts are even worth investigating because of the lesser-dollar value attached to the crime. Larger ticket robberies trump the hair thefts. Philly police investigators also say that trying to catch human-hair thieves is difficult because the surveillance cameras in many beauty supply stores are limited. Since hair is ubiquitous, it is hard to investigate whether suspects selling hair on the streets bought it themselves or stole it?
In the meantime, beauty salon and supply owners are taking such precautions as installing better high-tech surveillance cameras, security guards, bullet-proof glass. Some stores even require people handling the higher-end human-hair products to show ID.
(Visited 23 times, 1 visits today)