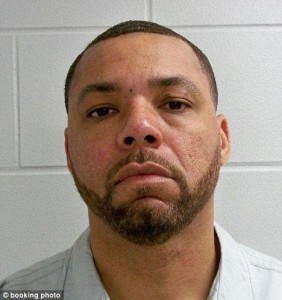 A father of an elementary school girl allegedly punched her basketball coach after he made her and another girl on the team run laps.
Shelly S. Miller, 37, was charged with felony battery after he allegedly beat Assistant Coach Jeffrey Yackus unconscious, apparently livid that he forced his daughter to run around the school's gymnasium.
During basketball practice last week at St Stanislaus School in Michigan City, Indiana, Miller's daughter had gotten into a fight with another girl – Mr Yackus reportedly made them run around as punishment.
After Miller heard of the coach's actions, he went to the school to confront Mr Yackus.
A police report says Miller entered the school March 7 and punched him in the face after the two argued.
Mr Yackus then fell to the floor; Miller then got on top of him and began repeatedly punching the coach in the face and head, until Mr Yackus lost consciousness, the report says.
St Stanislaus' head coach attempted to stop Miller from leaving, but was unsuccessful, Michigan City police say.
Mr Yackus was taken to Franciscan St Anthony Health to receive treatment for a concussion.
Miller, meanwhile, was charged with felony battery – a Class C offense – after his was arrested Friday.
He is being held on $15,000 and is due in LaPorte Superior Court tomorrow.
(Visited 31 times, 1 visits today)