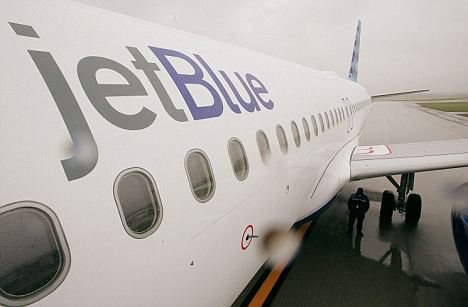 A plane was forced to make an emergency landing mid-flight after an argument broke out between two women on board.
The JetBlue Boston-to-Chicago flight was carrying 86 passengers when it diverted to Buffalo, New York, on Monday over bomb-threat fears.
A woman in the Boston area called authorities on Monday morning to report that there was a woman on board flight 923, destined for O'Hare International Airport, who could pose a threat to its wellbeing.
She gave the name and seat number of the woman in question, according to Buffalo airport spokesman C. Douglas Hartmayer.
He added: 'The call indicated that there may be an explosive device on the aircraft. That information was conveyed to the flight crew and that obviously prompted the diversion to Buffalo.'
As it transpired the threat was not a valid one and charges are pending against the hoax caller.
Buffalo airport authorities believe the call stemmed from a domestic dispute between the two women. Some passengers said it was over a boyfriend.
Passenger Gason Patterson of Boston said he sat next to the woman, who had been crying during the trip. When the plane landed in Buffalo, Patterson said the woman indicated she knew the police were coming for her.
The woman involved in the domestic was removed from the flight and questioned. She was later released without being charged.
(Visited 48 times, 1 visits today)