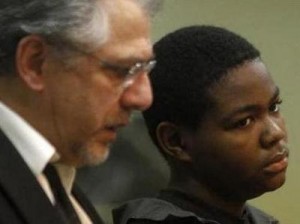 DETROIT (AP) — A 14-year-old Detroit boy will stand trial as an adult in the shooting death of his 36-year-old mother.
A 36th District Court judge determined Thursday that there was enough evidence to send Joshua Smith's case to Wayne County Circuit Court.
Smith faces an adult charge of first-degree murder and using a firearm during a felony. Arraignment is set for March 15.
Police say Tamiko Robinson was shot to death Feb. 27 at her home following an argument with the teenager. A shotgun belonging to the boy's stepfather was used in the shooting.
'LIKE' NewsOne's FB Page To Stay Up On Black News From Around The World
An officer said Smith told investigators he was tired of being called names.
The judge denied a request by defense lawyer George Chedraue to have his statements to police suppressed because of his age.
(Visited 65 times, 1 visits today)