While Geraldo Rivera (pictured) continues to try to convince the public that his recent controversial remarks about murdered teen Trayvon Martin are a service to minorities, it looks like even his family isn't buying his latest brain fart. In particular, Rivera admitted over Twitter that his oldest son, Gabriel, is "ashamed" of his position on Fox News.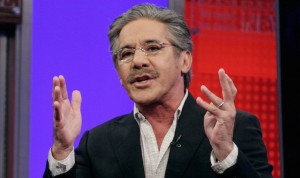 Gabriel broke my heart. He's my oldest, 32, and he just told me that for the first time in his life he's ashamed of what I wrote on [Fox News Latino]," Rivera said in an email.
I wrote him, and I'm telling you that my mission is to save kids' lives in the real world, the Fox News host said. 'We can bluster and posture all day long about the injustice of it all, but despite what Roland Martin or even my son Gabriel Miguel Rivera says, every hoodie should come with a warning like cigarettes, 'caution wearing this could get you killed…"Gabriel wrote back to say I've gone viral for all the wrong reasons. 🙁 "
Friday morning, the Fox News host made it be known that his stance was different from most when it came to the murder of Trayvon Martin by George Zimmerman:
via Geraldo Rivera Son | News One.
(Visited 38 times, 1 visits today)