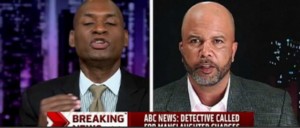 From the time Trayvon Martin's murder went viral on the Internet and on national news, Joe Oliver, a self-proclaimed friend of neighborhood-watchman-gone-wrong George Zimmerman and a former "CNN Weekend" anchor, has been popping up on newscasts across the country, defending Zimmerman against racism as if his life depends on it. On Lawrence O'Donnell's "Last Word" Tuesday night, though, the New York Times' Charles Blow and the Washington Post's Jon Capehart, exposed Oliver for what he really is: a fraud.
On the "Last Word," Oliver struggles to recall whether he had ever been alone with Zimmerman, if his "friendship" with Zimmerman ever extended beyond social spheres, and says he never knew about Zimmerman's 2005 arrest, when Zimmerman assaulted someone. What's most disturbing, though, is Oliver's assertion that he knows — more than Trayvon's mother — that the screams on the 911 tape, are indeed, Zimmerman's.
via Joe Oliver Exposed on Lawrence ODonnells Last Call | News One.
(Visited 22 times, 1 visits today)