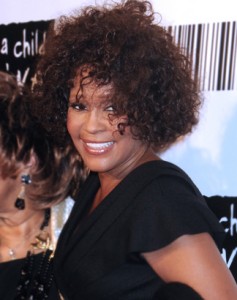 Whitney Houston's family are reportedly planning to encase the singer's grave in concrete in order to stop thieves stealing the $500,000 worth of jewels encased in the tomb.
The singer's grave is still under armed guard nearly two months after her funeral at Fairview Cemetery in New Jersey. However, questions are being raised over how financially viable the current situation is – with a concrete casing being one solution under consideration.
"Cissy can't afford to keep paying guards forever. A concrete encasement is the only answer," a family friend told the Daily Star.
Experts have recommended the plan to the Houstons, with America's biggest celebrity funeral home Hollywood Forever, insisting: "It makes robbery virtually impossible. It would take a long time to get through, even with a pneumatic drill."
Whitney's casket alone is rumoured to be worth $16,000, with the legendary diva buried wearing diamond earrings and brooch.
via Whitney Houston's Body 'Encased In Concrete' To Beat Grave Robbers – TaleTela.
(Visited 231 times, 1 visits today)