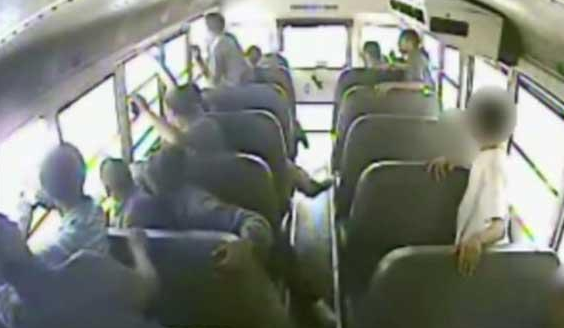 Cops are looking for a gunman who opened fire on a Houston school bus. To help them in that search, a videotape of the shooting was released.
Video: Gunman Opens Fire on School Bus: MyFoxHOUSTON.com
The HISD school bus was taking the kids home after school from Beechnut Academy and before you know it the bus was taking on a barrage of bullets.
"It's a frightening situation," says Gayle Fallon with the Houston Federation of Teachers. The tape shows the sixth through twelfth graders hitting the floor as the shots are fired about four miles from the alternative school.
Cameras on the bus caught two young men walking on the sidewalk. Witnesses say one of the two then pulled out a gun and opened fire at the school bus. A camera recording inside the bus shows frantic kids falling to the floor as the bullets are hitting the bus. First the kids hear the loud noise and some students try to take a closer look. One boy lowers a back window and seconds later what appears to be a puff of smoke flies into the window. The kids realize they are being shot at and duck for cover.
"There's nothing the district can do. There's nothing the person driving the bus can do if someone on the street opens fire," says Fallon.
She says Houston police were immediately called and have been investigating since March 27, 2012 when the shooting happened.
"The school immediately sent letters home," Fallon adds.
We're told the students interviewed in the investigation who were on the bus when it was shot at did not recognize the shooter or the young man he was with. "Fortunately no one was injured and hopefully it doesn't happen again," says Fallon.
(Visited 223 times, 1 visits today)