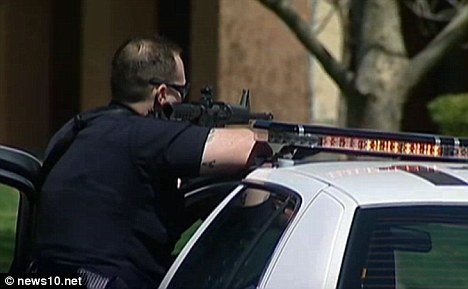 An army of law-enforcement officers responded to a bomb threat at a high school that turned out to be an April Fool's Day joke.
Three police departments, a helicopter, paramedics, firefighters and a SWAT Team raced over to Roseville High School in California when they took the prankster's call seriously.
The caller, a 30-year-old man with autism who was in Virginia, told officials that students were injured and a pipe bomb was in the cafeteria.
Officials at the Roseville Police Department, which received the call, suspected that the call may be a hoax, but they said they had to take the steps necessary in case it was a real emergency.
A dispatcher who took a call that a juvenile had an assault rifle on the campus.
Sounds of gunshots were heard in the background.
Emergency crews at the scene cleared the entire school and anyone outside the campus as procedure.
They searched for a bomb, but they didn't find anything.
The unidentified man who made the call has made pranks similar to this one with other police agencies.
Officers were sent to the man's home in Virginia, according to authorities.
The man may face civil and felony charges for the prank, authorities said.
He also will be responsible for the cost of deploying the emergency crews to the scene.
(Visited 64 times, 1 visits today)