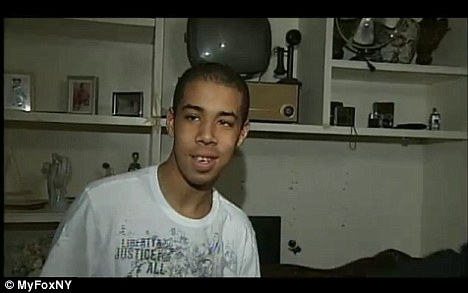 A 13-year-old autistic boy who survived on scraps of food and water after getting lost on the subway for three days has been found.
Ross Harrison ran away from his home in the Bronx, New York, on Tuesday morning, saying he did not want to ride the school bus because he was getting bullied.
Ross's parents were worried sick about the schoolboy who suffers from a severe speech impediment, fearing he would not be able to find his way home.
'That day, he told me he don't want to go to school because someone was going to hit him on the bus,' his mother, Rosura Taberas, told CBS 2.
But Ross was found by some Good Samaritans on Friday after his frantic parents released images of him and the media reported he was missing.
He was tired and hungry, having not eaten much for three days and roamed the streets of New York, trying to find his way home.
'Mommy, you mad?' he asked his frantic mother at the police precinct when they were reunited, according to the New York Post.
'He was telling me that he want[ed] to come home,' Taberas told CBS 2. 'That he was walking and going inside the train and was trying to come back home.'
Now his parents want to thank the people who found their son and ensured his safe return.
'I just want to tell them thanks a lot. They made me very happy,' Taberas told CBS 2.
But she also issued a warning to the bullies who made her son flee their home, saying: 'They gotta stop doing that. Look at what happened. And sometimes that goes worse than that.'
Now Ross has been given a GPS tracking bracelet – worth $250 – so his parents can always locate where he is and the incident does not occur again.
(Visited 55 times, 1 visits today)