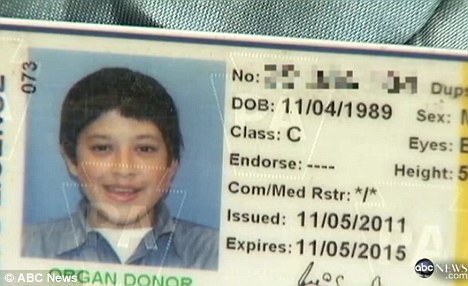 Jose Sanders' driver's license says he's 22 years old. But he doesn't look old enough to buy beer. Or vote. Or even own a driver's license, for that matter.
So when he tired to pick up a six pack at grocery store in Braselton, Georgia, and flashed his ID, the clerk didn't believe he was of legal drinking age wouldn't sell him the alcohol.
That's when he began cursing at store employes and threw a fit in the checkout lane, they say. Police arrived and arrested him for disorderly conduct.
Stunted growth: WSBT reporter Amy Napier Viteri towered over Sanders, who stands just five feet tall

Sanders told WSBTV he has a pituitary gland disorder that had stunted his growth. He stands only five feet tall and looks much younger than the full-grown adult that he is.
The way he looks has made him the victim of constant discrimination he said. And when the clerk wouldn't believe he was 22, he got upset.
'I just said, "You can call the police. I have no worry. My whole intention is to buy this beer,"' Sanders said.
He said he's had trouble buying alcohol before, but never like he did at the Kroger store in Braselton last week.
Insulted: Sanders said he is frequently discriminated against when buying alcohol and he was upset that the cashier was questioning whether he was really 2

He never told the cashiers about his medical condition because it shouldn't be any of their business, he told WSBTV.
He denies that he cursed at them or became abusive. However, he does admit he got angry.
'I was kind of frustrated, talking to myself. Sometimes I talk out loud,' Sanders, who also has bi-polar disorder, said.
Police said the store had a right to refuse to sell him the beer, no matter his real age.
For his trouble, Sanders spent two days in jail and was slapped with a $276 ticket.
(Visited 387 times, 1 visits today)