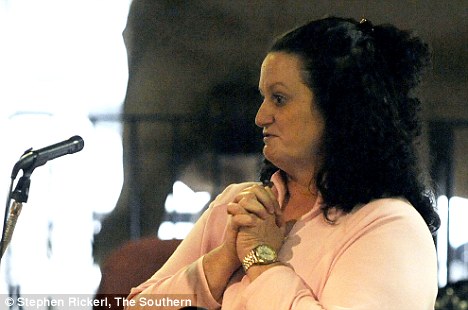 A breast cancer survivor who was sent to prison over a mistaken $280 medical bill has highlighted the return of debtor's prisons in the U.S.
Illinois resident Lisa Lindsay had received the medical bill in error and was told she did not have to pay up.
However, the bill was turned over to a collection agency and state troopers arrived at her home and took her away in handcuffs.
Lisa Lindsay testifies before officials from the Illinois Department of Financial and Professional Regulation Wednesday during a hearing on 'debtors' prisons' Lindsay, a breast cancer survivor, was jailed due to a unpaid $280 medical bill
The Illinois teaching assistant eventually had to pay more than $600 to escape prison, as legal fees were added to the bill.
'I paid it in full so they couldn't do it to me again,' said Lindsay whose plight has alerted law-makers in Illinois to the growing problem.
The case of Lindsay as well as others suggests that more people than ever before in the U.S are being thrown in 'debtor's prisons' for not being able to pay back loans.
Disabled roofer Jack Hinton sat in jail until he could come up with $300 on a debt he owed a lumberyard.
According to a hearing transcript, a central Illinois judge listened to Hinton's story, noted he'd recently been paid after finishing a roofing job, and said: 'Mr. Hinton, you had $1,000 in your pocket, you chose to spend it elsewhere in violation of the court order. That lands you in jail.'
Hinton's wife took out a loan to buy his freedom. Her $300 went to the debt collector.
Debt collectors have become so aggressive claim some that poor people who are behind on payments of as little as $25 a month are being sent to jail.
Even though debtor's prisons have been illegal since 1833, lenders are being accused of exploiting legal loopholes to have their borrowers found and sent to jail until they pay up.
Acting within the law, debtors aren't arrested  for nonpayment, rather for failing to arrive to court hearings thereby falling foul of contempt of court laws.
This results in a police arrest warrant being issued for 'failure to appear', the debtor is tracked down, packed off to jail and can only get out by paying the set bail bond which of course matches the amount owed.
The state of Illinois is waiting for their senate to approve a law which will plug loopholes enabling lenders to use state resources to chase their debts
Affecting everyone who owes money from health care services to automobile loans, debt collectors are using publicly funded courts, sheriff deputies and county jails to pressure people with prison to pay back their money reports CBS News.
And now some state legislators are trying to plug this loophole by making court notices be served in person rather than mail, arrest warrants to expire after a year and the bail bond returned to the debtor not the lender.
(Visited 17 times, 1 visits today)