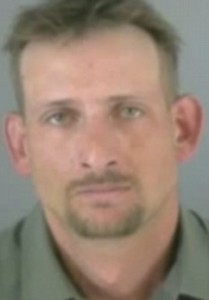 Two family members have died and a third is in a critical condition after a driver – believed to have been distracted by his cellphone – ploughed into them when he swerved off the road.
Micheal Grennan, of Loveland, Colorado, killed 22-year-old Seth Lewis and a second unidentified man when he drove his pick-up truck off the road – hitting them them from behind.
Both men died at the scene.
Seth's 14-year-old brother Jarren Lewis was airlifted to hospital and  released from intensive care yesterday.
Police suspect Grennan, 33,may have been using his cellphone when he lost control of his white 1998 Toyota pick-up and hit the three relatives as they were walking on Saturday afternoon.
Grennan's wife has denied that he was distracted by his phone.
Police have confirmed that Grennan will be charged with distracted driving resulting in death.
The victims were walking along the narrow dirt shoulder of 168th Avenue between York and Colorado and it is not clear where they were on their way to.
Local residents say that it is unusual for people to walk along that particular road where cars drive at over 45mph.
Speed doesn't appear to be a factor, according to Thornton police spokesman Matt Barnes, 'but appears it may be a case of distracted driving due to cell phone use.'
(Visited 24 times, 1 visits today)