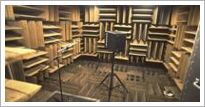 Sometimes, a little peace and quiet might sound like the perfect thing to help you kick back and relax. However, taken to the extreme silence can unbeqarable: the anechoic chamber at Orfield Laboratories in Minnesota can mute 99.99% of all sound, but visiting the silent oasis isn't as calming as you might expect.
The longest that anyone has survived in the 'anechoic chamber' at Orfield Laboratories in South Minneapolis is just 45 minutes.
It's 99.99 per cent sound absorbent and holds the Guinness World Record for the world's quietest place, but stay there too long and you may start hallucinating.
It achieves its ultra-quietness by virtue of 3.3-foot-thick fiberglass acoustic wedges, double walls of insulated steel and foot-thick concrete.
The company's founder and president, Steven Orfield, told MailOnline: 'We challenge people to sit in the chamber in the dark – one reporter stayed in there for 45 minutes.
'When it's quiet, ears will adapt. The quieter the room, the more things you hear. You'll hear your heart beating, sometimes you can hear your lungs, hear your stomach gurgling loudly.
'In the anechoic chamber, you become the sound.'
And this is a very disorientating experience. Mr Orfield explained that it's so disconcerting that sitting down is a must.
He said: 'How you orient yourself is through sounds you hear when you walk. In the anechnoic chamber, you don't have any cues. You take away the perceptual cues that allow you to balance and manoeuvre. If you're in there for half an hour, you have to be in a chair.'
The chamber is used by a multitude of manufacturers, which test how loud their products are.
It's also put to use to determine sound quality.
'We record products and people listen to them based on semantic terms, like "expensive", "low quality", said Mr Orfield. 'We measure their feelings and associations.'
(Visited 65 times, 1 visits today)