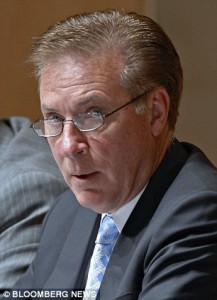 It is a spectacular fall from grace for one of America's most powerful health insurance executives – involving affairs, violent brawling, accusations of corrupt hiring practices and a private investigator.
Kenneth Melani has lost his job as Highmark's CEO after assault and trespassing charges were filed against him in relation to a fight he had with his girlfriend's husband.
The high-flying businessman was fired from his $4million salary job today as a result of brawling with Mark Myler, the husband of Melissa Myler, who Melani had been having an affair with and had recently given a job to at Highmark.
According to a criminal complaint, Melani, 58, turned up uninvited at the Myler's Pittsburg home and – ignoring 'about 10' requests from Mr Myler to leave – accused Mrs Myler of cheating on him and being with him for his money.
Melani, who is a married man, was friends with the couple for a few years before he hired Mrs Myler to work for him at Highmark.
Just three weeks after she started working at the company the pair embarked on their affair.
Things began to unravel in January when Melani's wife, Tracy, found out about the illicit relationship and rushed to tell Mr Myler about it, according to the criminal complaint.
It was at this point that Mrs Myler moved out of her married home to move in with her lover and new employer.
But only months later and their new living situation soured when Mrs Myler discovered that Melani had hired a private investigator to find out more about her.
According to criminal statements, Mrs Myler then returned to her marital home to confide in her husband. Mr Myler alleges that Melani also threatened his wife and that she had consulted with lawyers about how to leave her job at the health insurance firm.
Melani then turned up at the Myler's townhouse in Oakwood unannounced.
The verbal spat between the two men soon became physical and they starting fighting on the porch of the smart townhouse, although there are differing accounts as to who threw the first punch.
(Visited 39 times, 1 visits today)