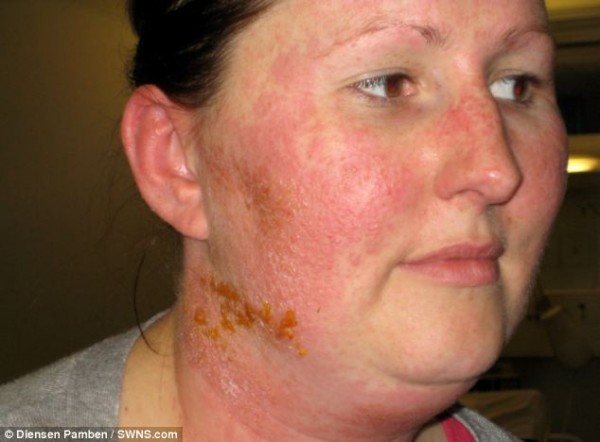 A woman was left unrecognisable after a severe reaction to her iPhone case left her face covered in a bright red rash.
Marketing manager Jenny Taylor, 30, noticed her face swelling up after fitting a Griffin FlexGrip Punch cover to her iPhone 4.
She developed a horrific rash which covered her face and neck – and even had a sticky yellow 'phone-shaped' sore where she had held the handset to her ear.
Jenny Taylor, 30, from Liverpool, suffered an horrific allergic reaction to an iPhone cover
Marketing manager Miss Taylor was covered in a sticky yellow 'phone-shaped' rash where she had held the handset up to her ear
Miss Taylor went to hospital when her own mother failed to recognise her, but was sent home with over-the-counter antihistamine tablets.
The next morning, however, her face had swelled so much she was unable to open her right eye and could barely swallow.
She returned to hospital where tests revealed she had developed 13 skin allergies.
Miss Taylor, from Kirby, Liverpool, has now been warned she is allergic to dozens of household items including jeans, coins and door handles.
She said: 'My neck looked like a roll of sausages and I knew I definitely needed to go back to the doctors.
'You could literally see the shape of where the phone had been on my face, lots of little spots came up in the same area.
'You could see a distinctive mobile phone shape, there was no question of what it was.
'My mum didn't recognise me at first, she gasped in shock when she saw me, she was appalled. She thought I'd stay like that forever
(Visited 477 times, 1 visits today)