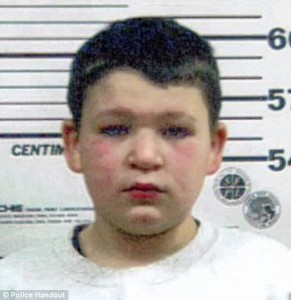 A boy who was 11 when he was accused of killing his father's pregnant fiancee and her unborn son in 2009 has been found guilty of the slayings.
Jordan Brown, now 14, was found delinquent by Lawrence County Judge John Hodge – the juvenile court equivalent of a guilty verdict.
Only family members were allowed to attend the trial due to the boy's age when he killed Kenzie Houk and her unborn child.
The boy's lawyer, Stephen Colafella, confirmed the verdict and said he would make a statement on the verdict.
He added Jordan Brown's father Chris, who has maintained his son's innocence, would not.
Prosecutors at the trial claimed the youngster had been driven to shoot his soon-to-be step-mother out of jealousy for her unborn child.
The baby was going to be named Chris, after his father.
The verdict on the criminal homicide charges means Brown could remain in juvenile court custody until he's 21.
Whether he remains incarcerated in a juvenile facility that entire time or is eventually released on probation will be subject to future hearings on the state of his rehabilitation.
Murdered: Kenzie Marie Houk with her daughters Jenessa, left, and Adalynn. She was pregnant at the time of her murder and her unborn son died as well
Family: Houk was engaged to Jordan's father Chris at the time of her death
He's been held in a facility about 80 miles from his home for most of the three years since he's been charged with criminal homicide.
Brown had faced the potential of life in prison without parole if convicted in Common Pleas, or adult court, which is where state officials initially filed the charges because that's required in Pennsylvania homicide cases regardless of a defendant's age.
The case grabbed headlines as much due to the chilling nature of the crimes as the ill-fitting Pennsylvania laws governing juvenile homicide suspects, which prompted two Superior Court appeals.
The first resulted in the case being moved to juvenile court and the second was an unsuccessful attempt by three western Pennsylvania newspapers to open the trial to the public even though Hodge had the discretion to close the case because Brown was under 12 when the killings occurred.
(Visited 194 times, 1 visits today)