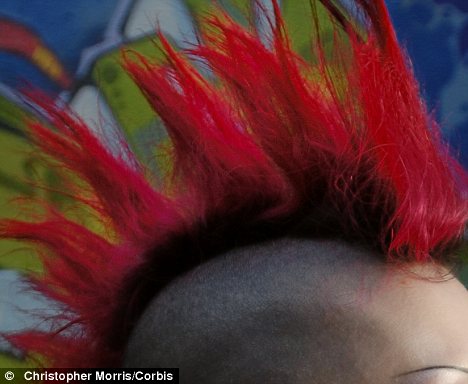 A man was sentenced to five years probation for shooting a woman because he thought her red Mohawk was a bird.
Derrill Rockwell, 49, shot the 23-year-old woman with his .22-caliber rifle in Grand Junction, Colorado late last year because he confused her cherry-colored hairdo for a fowl that had been bothering his cats.
The woman, whose named was not released, survived the gunshot wounds to the head that Rockwell fired after chasing a bird he spotted on a hill 90 feet away.
In the courtroom Friday, Sean Crocker, a detective on the case, called the case an unusual one.
He said: 'In 15 years in law enforcement, this was one of the more interesting cases I've worked.'
On the day of the shooting, Rockwell had grabbed his firearm to go after a bird on the hill that he believed was responsible for annoying his cats.
He pulled the trigger once.
But the 'bird' did not go away.
He soon heard moans coming from a woman, and discovered her with a large Mohawk and a wound on her head.
Rockwell pleaded guilty to felony possession of a weapon by a prior offender.
'This was a tragic accident, and I'm truly sorry,' he said.
Other charges filed against the shooter were dropped. Those included tampering with evidence, disorderly conduct, tampering with evidence and false reporting.
Rockwell had to pay more than $10,000 in restitution.
Authorities said the man had been misleading in their investigation about his role in bringing the woman to safety.
The shooter told police that he gave the woman a towel for her head and took her to the emergency at a local hospital.
He said he had left his name and a phone number where he can be reached to doctors.
But prosecutors said the woman entered the hospital alone.
He apparently told a nurse that he had found a woman bleeding from her head after he heard noises outside.
The shooter later got rid of the weapon by throwing it into the Colorado River, according to prosecutors.
Nearly a week later, he told police that he had mistook the woman's hairstyle for a bird.
Rockwell was not allowed to own a gun after he was convicted in 1995 for attempted burglary.
(Visited 50 times, 1 visits today)