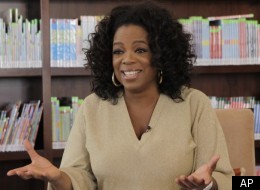 Ask and you shall receive.
A homeless man named Eddie saw Oprah Winfrey eating dinner on the patio of Scarpetta in Beverly Hills recently. Eddie asked her for a bowl of soup, and according to the New York Post's spies, the media mogul did him one better.
"Please, can we get him some money, get him a meal?" asked Oprah. As Scarpetta staff brought him a "feast," one of Oprah's dinner companions handed over a bunch of cash.
Chef (and owner) Scott Conant posted the New York Post article on his Facebook page earlier that day. His only comment? "Wow!!"
Scarpetta is a fine dining Italian restaurant where a plain (but delicious) tomato sauce spaghetti goes for $24. The restaurant has multiple locations across the country, and People points out that when Jay-Z ate at the Miami outpost in 2011, he left a $50,000 tip on a $250,000 bottle of champagne.
It's nice to know that this is how Oprah acts in her private life too.
(Visited 27 times, 1 visits today)