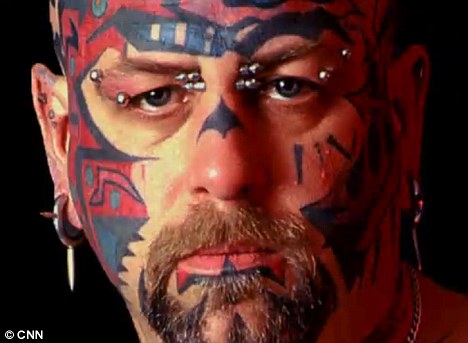 An uneducated tattooed man calling himself Scary Guy earns $6,500 a day teaching anti-bullying messages to schoolchildren.
The fifty-eight-year-old uses 'shock' tactics to get his anti-bullying message across.
His methods include spitting up digested apple, rubbing his large belly and pretend picking on 'geeks' and 'bald guys'
Scary, as he likes to be called, uses his life lessons from the 'street' to teach kids about 'emotional intelligence'.
His straight-talking missive and strange looks catch the children off guard, he claims.
'Stop taking on other people's rotten, horrific, negative words as energy and putting them back out into the planet and thinking you are defending yourself,' he told a Minnesota middle school.
He has used these methods to highlight classic bullying behavior in schools, universities, corporations and even law enforcement agencies for over thirteen years.
On his website, Scary calls himself, 'quite possibly the most powerful agent for change on planet earth'.
His mission is the 'total elimination of hate, violence and prejudice worldwide'.
(Visited 286 times, 1 visits today)