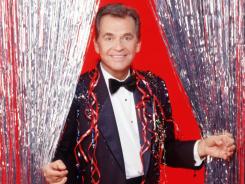 But Dick Clark? He never left. With his toothpaste-ad smile and a microphone always ready, Dick Clark was a fixture in our pop culture for decades.
Maybe you hear his name and think New Year's Eve stalwart, or American Bandstand host, or "World's Oldest Teenager," a nickname he picked up from TV Guide years ago, but Dick Clark was much more than any of those single images.
Clark, who suffered a debilitating stroke in 2004 and died Wednesday of a heart attack, was a shrewd entrepreneur who built a small empire for himself in the entertainment industry.
He was 82.
Teen dance shows, prime-time programming, specials, games shows, made for TV movies, and even feature films and restaurants, the ambitious Clark made Dick Clark Productions into a thriving business that touched the worlds of music, television and film.
From Bandstand in the 1950s to his three decades of New Year's Rockin' Eves, Clark was particularly adept in the melding of music and TV scene.
"Music is the soundtrack of your life," he was quoted as saying, and yet, he wasn't ever the one shimmying on the dance floor. And his favorite music? "Disco," he said in more than one interview. Clark was all about the smooth running of the production, not so much the joy of music. "I don't make culture," he once said. "I sell it."
In fact, the life of Richard Wagstaff Clark is a classic mailroom-to-boardroom Hollywood story. He was a broadcast salesman from start to finish.
The Mount Vernon, N.Y.-born Clark began his career in 1945 working as a teenager in the mailroom of WRUN-AM in Utica, New York, a station owned by his uncle and run by his father. He worked his way up to weatherman and newsman.
Always a hustler, Clark, at Mount Vernon's A.B. Davis High School in 1947, was voted "Most Likely to Sell the Brooklyn Bridge."
via TV legend Dick Clark dies at age 82 – USATODAY.com.
(Visited 27 times, 1 visits today)