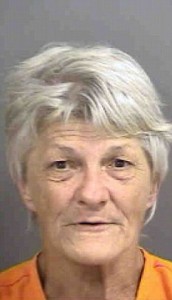 One 61-year-old woman took extreme measures to shut down her neighbours' noisy party –  she threatened the revellers with a rifle.
Furious at her neighbours' loud music, Mary Ashley, of Naples, Florida, allegedly marched outside onto her porch, shouted for the volume to be turned down and then pointed a gun at the party-goers.
However, Ashley's peace and quiet did not last long as police officers were soon knocking on her door to inquire about the incident.
The woman, who is disabled, claimed to the investigating deputies that she had actually pointed her wooden cane at her neighbours and denied threatening anyone with a gun.
But while talking to Ashley police spotted a rifle leaning against her bedroom wall.
One witness from the party told police that she feared for her life when she saw Ashley loading the weapon.
Other people at the party testified that Ashley looked as if she were loading the rifle.
She was arrested on charges of aggravated assault with a deadly weapon without intent to kill.
Neighbours from hell: Ashley allegedly marched onto her porch and pointed a rifle at the party-goers (stock image)
In a similar incident last week Danny Way, of Oregon, was arrested after he fired two shots above the heads of young boys who were noisily playing outside his home.
Police say that the 42-year-old used his 9mm handgun to fire two shots above the heads of the boys, aged 9 and 14, from just 10 feet away.
Way 'had become angry with the amount of noise' the two boys were making, according to police reports.
(Visited 23 times, 1 visits today)