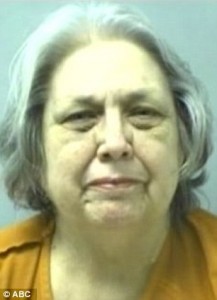 A 71-year-old Texas grandmother has been charged with attacking her gay neighbor with her wooden cane while shouting homophobic insults.
Wanda Derby allegedly beat Lloyd Guerrero, 25, around his neck and torso following days of posting offensive statements about him on Facebook and claims that he was dying from AIDS.
The elderly woman is also accused of slapping Mr Guerrero's mother when she attempted to help her son.
Mr Guerroro had been staying with his mother, who lives next door to Derby, in Dallas, for a few months.
Derby had reportedly grown angry when her son Steven, who is in his 30s, decided to move in with the Guerroro's after having 'issues' at home.
The attack happened on Wednesday  when Mr Guerroro, an actor who now lives in Los Angeles but grew up next door to the Derbys, attempted to help Steven move some of his belongings between the houses.
She later told police that Mr Guerroro was a 'f****t' with AIDS and that she thought he was going to give the disease to her son.
'Honestly, it looked like something out of a TV show. She was just, like, whack,' Mr Guerrero told ABC7 while motioning with his hand. 'And I will say, she hit pretty hard.'
'We finally got the cane and got it away from her and threw it on the ground,' he said.
'And then that's when I ran around and got inside the house. And then we started trying to shut the door. And she was like, full force, coming. I honestly don't know what she was thinking or what she even had in her.'
(Visited 26 times, 1 visits today)