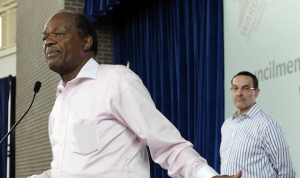 Faced with a torrent of criticism from his colleagues and other city residents, Marion Barry apologized Thursday afternoon for his Election Day suggestion that Asian business owners in his ward "ought to go."
Barry said via his Twitter account that he is "very sorry for offending the Asian American community" with an "admittedly bad choice of words" but remains concerned about the conditions of some restaurants in Ward 8.
"I admit, I could and should have said it differently. But the facts are still very present in our daily lives here," he tweeted. "We are tired of sub-standard treatment, tired of being kept [at] arms length distance, tired of the lack of community engagement."
Barry said in a telephone interview that the apology was heartfelt: "It is as solid as Marion Barry can make it, and believe it, because I have a history of not doing anything to purposely disparage any group of people."
ORIGINAL POST: Marion Barry is mostly refusing to back down from remarks Tuesday that Asian business owners in his ward "ought to go."
Barry made the comments Tuesday night, at a party celebrating his landslide victory in the Democratic primary race for the D.C. Council seat he's held since 2005.
WRC-TVcameras caught the remarks: "We've got to do something about these Asians coming in, opening up businesses, those dirty shops. They ought to go, I'll just say that right now, you know. But we need African-American businesspeople to be able to take their places, too."
Since then, outrage has mounted.
(Visited 34 times, 1 visits today)