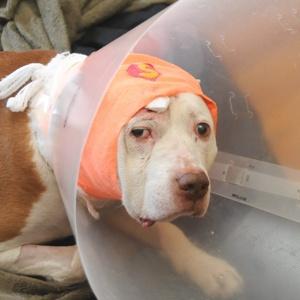 During a home invasion, this incredible pooch took a bullet to the head to save his owner and the owner's girlfriend. A robber, posing as a FedEx deliveryman with a package to deliver, tried to force his way into the home of Justin Becker.
With the armed impostor halfway inside the apartment, Becker pushed the thug to the ground. Kilo, a 12 year old pit bull, then stuck his head out the door and the hooligan pulled the trigger, shooting Kilo in the head at close range.
The bullet amazingly ricocheted off Kilo's skull and exited through his neck — sparing the dog from certain death.
"This is like, one in a million," said Dr. Greg Panarello, whose veterinary clinic operated on Kilo. "He's very lucky."
The hospital's staff was so impressed, they put a little "S" on his bandage — for "superhero." Panarello called him "a really sweet dog."
(Visited 63 times, 1 visits today)