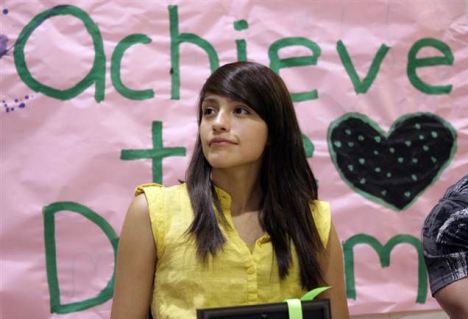 A prom queen who raised $17,000 after convincing her hometown she was dying of leukaemia has been arrested.
Nineteen-year-old Angie Gomez, from west Texas, told concerned friends, family and even her fiancé she had just six months to live, and the community rallied around her with offers of support.
A police investigation led to the teen's arrest at her place of work on Friday, on a charge of theft-by-deception.
According to the El Paso Times, Gomez was jailed and her bond set at $50,000.
Gomez is said to have told her classmates at Horizon City High, about 20 miles east of El Paso, that she was terminally ill in January 2011.
Police began investigating in June, 2011, around the time of her graduation, after a complaint that Gomez claimed she was fighting for her life but did not appear to be sick.
The teenager collected donations through the Achieve the Dream Foundation, which she created in May saying she wanted to help children with leukaemia beat cancer.
State jail felony charges were filed in September after police subpoenaed her bank records.
No other suspects were involved, police said.
Although the website for her foundation was no longer in service, an archive showed a smiling Gomez sporting a dark T-shirt with her organization's green ribbon-shaped logo and the tagline: 'Behind every fighter there is a supporter. Will you be mine?'
Hundreds responded to pleas Gomez made through motivational talks and fundraisers.
Among those taken in were students at Da Vinci High School, who threw a prom party fundraiser for her after she told them she had missed her own senior prom because she was in treatment.
It was a dream prom with a limousine, a dress donated by a fancy boutique and Gomez, named queen of the dance.
In a story in her local paper, the El Paso Times, Gomez said from the age of two until 13, she practically lived at the Children's Mercy Hospital in Kansas City battling leukaemia – but the disease had come back even more aggressively in her high school years.
Gomez also said she had been at the St Jude Children's hospital, a medical centre that specializes in cancer treatment.
Hospital records show no one under the name Angie or Angelica Gomez had ever been a patient at either hospital within the last 10 years.
Gomez even apparently fooled her fiancé, Freddy Alcantar. The couple were making plans to marry in August, he said, and she would take medications.
'But I didn't ask what kind; it was a sensitive subject,' he added.
The last he heard from her was a brief call where she told him she was going away. 'She just disappeared,' he said.
After the news of the investigation came out, Mr Alcantar said he was fired from his job but he didn't blame her.
'I don't know what's real and what's not,' he said. 'Hopefully, it's a rumour and it will blow over,' he said.
Gomez's mother, Sandra Gomez, told the Times she was not aware of the extent of the teen's fundraising, and that she believed her daughter was trying to 'straighten out the matter'.
(Visited 25 times, 1 visits today)