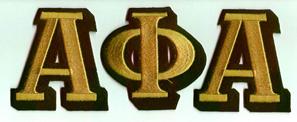 This letter was written by historian Gregory Parks, a member of the Alpha Phi Alpha Fraternity.  It alleges financial improprieties within the organization.
Dear Brothers,
 As an Alpha man, one imbued with the faculties of intelligence and reason, I ask that you bear with me and read the following words before you close your mind or come to any conclusions:
A few years ago, a young lady who worked at Alpha Phi Alpha's Corporate Office began posting tweets (on Twitter) about financial mismanagement that was taking place amongst our leadership. Specifically, her target was General President Mason. Somehow, I obtained the young lady's e-mail address and sent her a message. In that message, I asked her not to use such a public space to air her concerns and outrage.
I urged her to turn to a body of men imbued with bravery, integrity, selflessness, and vision—just some of the hallmarks of leadership in its best sense. That body of men was Alpha Phi Alpha's Board of Directors. I don't know what decision that young lady made, but in time and with great disappointment, I have come to know many within that group of men as cowards, concerned with their own advancement, VIP status, hotel suites and limousines, and place in the spotlight. But what they have not been concerned with is what is best for Alpha. Instead, as a body, they have sat for the past three years plus and let one man pimp Alpha.
It is a tragedy that now as the proverbial "stuff" hits the fan (which I will share in part, shortly) you hear whispers from brothers who knew that we were headed down this road. They, however, would not speak out to save Alpha. As I noted some time ago, during our last General Presidential campaign, I sent an e-mail to various Alpha list-serves.
In an e-mail entitled "Remember These Seven," I tried to articulate the reasons why brothers should have been concerned about the candidacy of Brother Herman "Skip" Mason. Probably due much to my own fault, given my tone, the e-mail fell on many deaf ears. But given what I saw back then, what I see now, and the illegal activities that Brother Mason admitted to at the Southwestern Regional Convention, somebody has to call for his resignation from office and for his discipline.
Around the time I was coming into Alpha (1997), Brother Mason was selling hisbook—"The Talented Tenth: Biographical Sketches of the 'Jewels' of Alpha Phi Alpha Fraternity, Inc." He researched, wrote, and self-published this book while acting as the Fraternity's archivist. As such, while collecting materials for the Fraternity's archives, he used his position to profit off of Alpha. In essence, he pimped the Fraternity.
Just a couple of years later, Brother Mason released an expanded, hardbound version of his book with a new title—"The Talented Tenth: The Founders and Presidents Alpha." Despite the sitting General President's demand that Brother Mason not publish the book, Brother Mason self-published it, using materials he gathered in his position as the Fraternity archivist. Again, he pimped the Fraternity.
When charged to set-up the Centennial Convention Archival Exhibit, Brother Mason was given an extensive budget of tens-of-thousands of dollars. He put together a grand display, but instead of returning the exhibit to the Fraternity and the brotherhood, he has kept it for himself. Again, he pimped the Fraternity.
The Fraternity paid forty-four thousand dollars to secure Charles Harris Wesley'spapers. The papers were reportedly shipped to Brother Mason, never to be seen by the brotherhood. Again, it seems that he has pimped the Fraternity.
Brother Mason, through his leadership or lack thereof, has lost our brotherhood somewhere between 2.5 and 3 million dollars. All the while, he has dined on the most sumptuous of meals, stayed in suites, ran up a five figure limousine and car service bill, and flown around the globe in first class style and seating, far exceeding the travel budget of any of his predecessors. In an era in which many brothers have lost their jobs and homes, Brother Mason sought to rule in luxury. Again, he pimped the Fraternity.
And then the recent draft audit and subsequent details revealed that Brother Mason had his wife set-up a publishing company. Using the Fraternity's archivalmaterials, Brother Mason began publishing works on the Fraternity and requiring the Fraternity to purchase and include those publications in convention registration packets. He turned a nice profit and again, and he pimped the Fraternity.
And then, just last week—he admitted to the Southwestern Region in one of only five questions that the brothers were permitted to ask him, that despite Fraternity regulations against the use of the Fraternity credit card for personal purchases, he paid his children's private school tuition. He explained that he took the money, because his wife was out of work and that his pay had been docked because he had missed almost 400 days of work.
I think any brother with even a modicum of compassion could understand the bind our brother found himself in. But his solution should have been to ask for help or put his children in public school. He didn't choose those options. Some of his supporters suggest that the money was merely borrowed. But there is no report of the Board of Directors authorizing said charges. There is no report of a promissory note having been drafted.
In fact, when asked about repaying it, Brother Mason indicated that he would, but he didn't know when. Brother Mason didn't borrow that money; he stole from his brothers and came up with an ad hoc explanation once caught. Again, he pimped our Fraternity.
I have held my tongue and my opinion, to a large extent, these many months. Brother Mason's total lack of regard for the economic times in which we live, his disregard for his brothers, and his disregard for his Fraternity has not been enough to make me speak out. But he stole from you, from me, from us. In the past, there have been District Directors and regional leadership who, too, have stolen from the Fraternity and robbed the brothers of the faith that we have placed in them.
Those brothers were stripped of power, removed from office, and either suspended or expelled from the Fraternity for their transgressions. But Brother Mason has stated that he will not step down from office. In fact, he has a trip to Haiti planned. Even more, there is no force within our body that has proven itself courageous or concerned enough to sanction our brother for his transgressions.
But on this night, I ask Brother Mason to Remember the Seven, to show some honor and integrity, to be a leader, and to step down from his post. While I think he owes it to us to answer our questions, in full, at each of the remaining regional conventions, he doesn't deserve a day more than that in office.
Even more, I do what I have up until now been unwilling to do, that is to sign the petition recalling him from office. I ask you, my brothers, to do the same once you have satisfied yourselves of the facts, many of which are being hidden and obscured by our Board of Directors. Lastly, I ask the brothers on the Board of Directors to mete out some measure of justice—to, at the very least, suspend Brother Mason commensurate with whatever precedent has been established in similar situations.
Even more, I ask that any record of his name and administration be stricken from our history book, as it would be unfair and inaccurate to tell his story and not the whole story.
My brothers, if we don't remedy this matter in-house, there are external forces that will do it for us. Every secret comes to light, and when this secret does, everything we claim to stand for will be for naught. If it is revealed to the world that we are incapable of managing our finances and holding our own corrupt leaders accountable, when this story breaks, we will lose everything—our corporate sponsorships, our partnerships, and even worse, our credibility.
It will take years for our Fraternity to rebuild what was lost. Even more, the very financial activities your chapters rely on sustain themselves—the beautillion, the Founder's Day Ball, the Martin Luther King Breakfast—will be compromised.
Some of Brother Mason's supporters suggest that he has raised Alpha's profile. But how? Much of our national acclaim in the past several years has come from the MLK Memorial, begun long before Brother Mason took office. What's for sure is that when his corrupt and illegal activities go public, he'll surely raise our profile but not in a good way.
Some of Brother Mason's supporters might suggest that in sending this e-mail, I have besmirched Brother Mason's name and disrespected the office of the General President. The truth is, however, that it is Brother Mason who has sullied his name and brought ill-repute upon the office of General President. Honestly, I didn't vote for General President Mason, but I had hoped that he would grow into the office he now holds. Instead, he has reduced it to his stature.
It is with a heavy heart and a great deal of angst that I send you this e-mail. Indeed, much of my angst is selfish. In all honesty, I'd rather not be in this fight for the future of Alpha, at least not this way. I know Alphas. I know that too many of us prefer image over substance or can't discern the difference between them.
Too many of us like the image of leadership more than the realities of leading. Too many of us like to remember the Jewels rather than live the values they gave us. I know that many of my brothers will crucify the messenger rather than hold corrupt leadership accountable.
My research and writing on black Greek-letter organizations these many years has been driven by a desire to make them, generally, and Alpha, specifically, better. But I realize now that in order to make Alpha what it was intended, what it is destined, to be my efforts can no longer be from behind the safe confines of a desk and computer.
My prayer over the past several weeks has been that someone else would take-up this mantle, to tell you these hard truths. Now my prayer is that you love Alpha like you say you do and that your conviction will lead you to bring some accountability, forgiveness, and vision to what we both hold dear.
Fraternally,
Brother Gregory Parks
(Visited 270 times, 1 visits today)