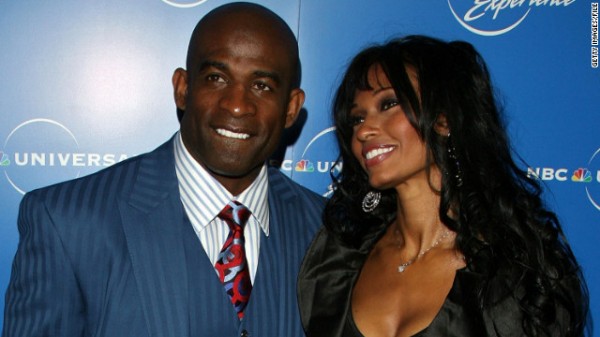 Pilar Sanders, the estranged wife of former NFL star Deion Sanders, has been placed under arrest on charges of domestic violence.  Pilar is accused of assaulting Deion in his home in front of several witnesses.  Deion even went to Twitter to post pictures of his children giving statements to the police.
"Pray for me and my kids now! They just witnessed their mother and a friend jump me in my room," the first tweet said. "She's going to jail n I'm pressing charges!"
Sanders kept on tweeting, sharing other thoughts about his experience.
"I'm sad my boys witnessed this mess but I warned the police department here that she was gone try n harm me and my boys. This is on my mama!" it said.
Pilar was then booked on suspicion of assault of a family member, which is a misdemeanor.  Her bond was set at $264.  Sanders then took to the airwaves at KXAS in Dallas on Monday, appealing for help.
"My kids, they are scared for their life," Sanders told the station. "They just saw two women jump their dad in his own house, in his room, in my room. It's sad."
"I got locks on my doors right now," he added. "Is somebody going to have to die? Is it going to be me before the court does something and get this woman out of my house? It's absurd."
Sanders and his wife have three children together.  Sanders has two kids from a prior relationship.  They married in 1999 and even had a reality show, "Deion & Pilar Prime Time Love," on Oxygen.
The marriage started to fall apart recently when Pilar filed suit against Deion and his aunt, Laura Jones.  Pilar claimed that Deion's aunt attacked her in their home in Texas.  Pilar then filed a lawsuit against Deion and his daughter Deiondra when the daughter called her a "gold-digging b*tch."
(Visited 50 times, 1 visits today)