DJ Khaled is ok after his bus exploded this week.  The DJ cancelled a concert in Orlando after his tour bus went up in smoke during the trip.
Khaled tweeted his issues to the world this week:
"I'm sry I couldn't make it 2 grad bash it was out my control my tour bus caught on fire & blew up!, the gd thing me & my team is ok!"
Just when you thought you knew what it meant for a tour bus to be "up in smoke," you get something like this.  We're glad to know that he's ok.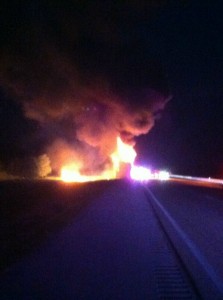 (Visited 19 times, 1 visits today)