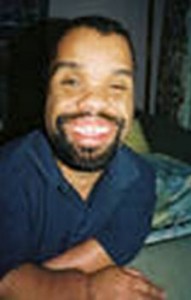 A woman will serve a life sentence for beating a dwarf to death with a crystal ball.
Clara Ann Blocker, 41, pleaded guilty to the murder of Erik Scott Saxton, according to the Oklahoman newspaper.
Enlarge
Attack: 4ft 5in Erik Scott Saxton (left) was beaten to death with a crystal ball by Clara Ann Blocker (right)
Blocker, from Oklahoma City, who is 5ft 11in tall, also admitted to using a DVD player as her weapon of choice.
The attack on 4ft 5in tall dwarf took place on September 16, 2010.
Blocker originally told detectives that she would never hurt Saxton 'because he's a little person'.
More…
Murder investigation launched as two-year-old boy is found dead at home
'I used a spy camera to catch a care home thug beating up my mother': How a daughter's suspicions lead to her uncovering harrowing abuse
She was temporarily homeless when the pair began living together, the court heard.
Blocker later admitted that the pair were drinking vodka when they got into an argument.
She grabbed a crystal ball and hit Saxton in the head before repeatedly striking him with the DVD player.
It is unclear what Blocker and Saxton were specifically fighting about, detectives said.
A judge at the Cleveland County District Court sentenced Blocker to life on Tuesday.
The slain dwarf's mother Juanita Saxton Tischendorf traveled from Rochester in New York state for the sentencing hearing.
She said to the Oklahoman that her son had suffered ill health throughout his life and was also paralysed on his left side.
She said: 'So many times Erik showed us miracles of survival as he overcame one problem after the other.
'He was our strength. I never imagined his life would end like this.'
Ms Tischendorf said she has come to grips with her son's death by remembering the good times they shared.
She said: 'These are the memories I will keep in my heart, now and for always.'
via Dwarf beaten to death with crystal ball: Fully grown woman jailed for life | Mail Online.
(Visited 57 times, 1 visits today)